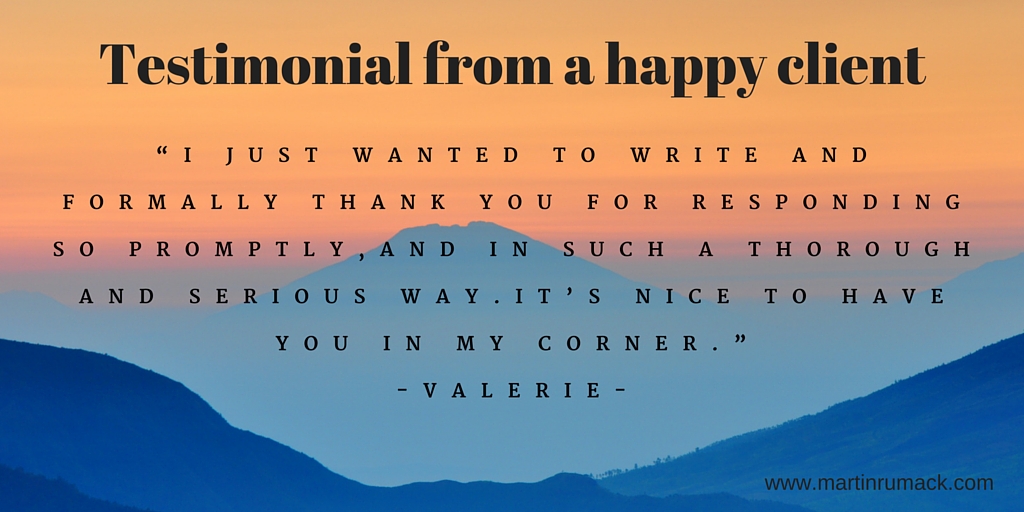 LETTER FROM A HAPPY STUDENT
"Hi Martin,
I took your seminar "Real Estate Transactions Involving Special Parties" last Friday in Newmarket, loved it and went to buy your book "Legal Responsibilities of Real Estate Agents"…Thanks so much. I have been in real estate for almost thirty years and I was astonished at how much I learned from you. Your seminar is chock full of valuable information and I loved your generosity of knowledge, time and availability, and your support of real estate agents. I will definitely keep your business card handy."
– Janet Coutney – Real Estate Agent
————————–
"Martin,
Thanks for your friendly call this morning and for all of your rigorous assistance in our nerve-wracking pre-construction purchase of unit. We're signed and sealed, just have to get delivered of our condo!"
– Tony
————————–
A SATISFIED CLIENT
"Hi Martin,
Are you not the bearer of all good news – thank you!!!!!!! I did not expect to hear from you until next week – your efficiency knows no bounds!
As usual, it was a pleasure (and a stress free experience!) dealing with you and Martin – thank you for all of your help! You are the 'poster children' for a positive experience dealing with all the legal issues – no wonder your firm is so successful! Can I be the spokeswoman for your next advertising campaign??????
With warmest regards, Alex"
————————–
Marty,
Thanks for everything, It's good to have you on my "team" and I appreciate your friendship and advice.
All the Best,
Lianne Krakauer, LL.B., M.ED
————————–
"Being a client of Martin Rumack's for over 15 years, it was a natural choice to include him as my legal columnist for my magazine and luckily for me he accepted! His articles are interesting and written with elegance.  Martin's attention to detail and his work ethic knows no bounds and his book follows suit. Concise, pertinent and well put together". 
Monique Charbonneau, Publisher/Editor In Chief, Condo Elite Magazine
————————–
Dear Martin,
Thank you for your kindness. You are a prince among men. Thank you for your guidance, legal ability and kindness,
Judith
————————–
Dear Martin,
Thank you very much for your new year's letter. Interesting and enjoyable as always.
Many thanks,
Phil
————————–
Martin,
I really enjoy and appreciate the genuine care and guidance that you have for your clients, you make us feel special!
Thank you,
Robin, DanaMark Watercare
————————–
"Thank you Martin.
It was a pleasure meeting you today and we appreciate the thoroughness of your document review.  We look forward to hearing from you regarding Tridel's response.
Best Regards,
Elaine & Peter"